Updated on May 13th, 2021
Data recovery not only happens to hard drives, but also applies to USB drive, namely, flash drive recovery. The appearance and constant improvement of flash drive recovery software has turned flash drive recovery a quite easy job. Everyone can gain skills of flash drive recovery after a simple training.
It is equally important that knowing the reasons that cause flash drive data loss and understanding the detailed process of recovering files from flash drive. Main reasons of flash drive data loss includes hardware or software malfunctions, file deletion, unintentional formatting, virus attack, malware damages, bad sectors, etc. The light side is that present data recovery technology and program allows users retrieve lost files from flash drive and other storage devices.
First, you need to connect the flash drive to a normally running computer and have a test for the connection. If the flash drive fails to be detected by computer, then you need to hire an expert to help you carry out flash drive recovery. If computer detects flash drive successfully, then you can continue recovery process.
Download and install flash drive recovery software to computer, and get the core steps started. One thing you need to keep in mind is that data recovery software must not be installed to flash drive which waits for file recovery. Eassos Recovery Free is a free flash drive recovery program and it can be used under all Windows systems. Eassos Recovery Free keeps updating and improving in order to simplify recovery process and optimizing recovery result, which are witnessed by millions of users all over the world.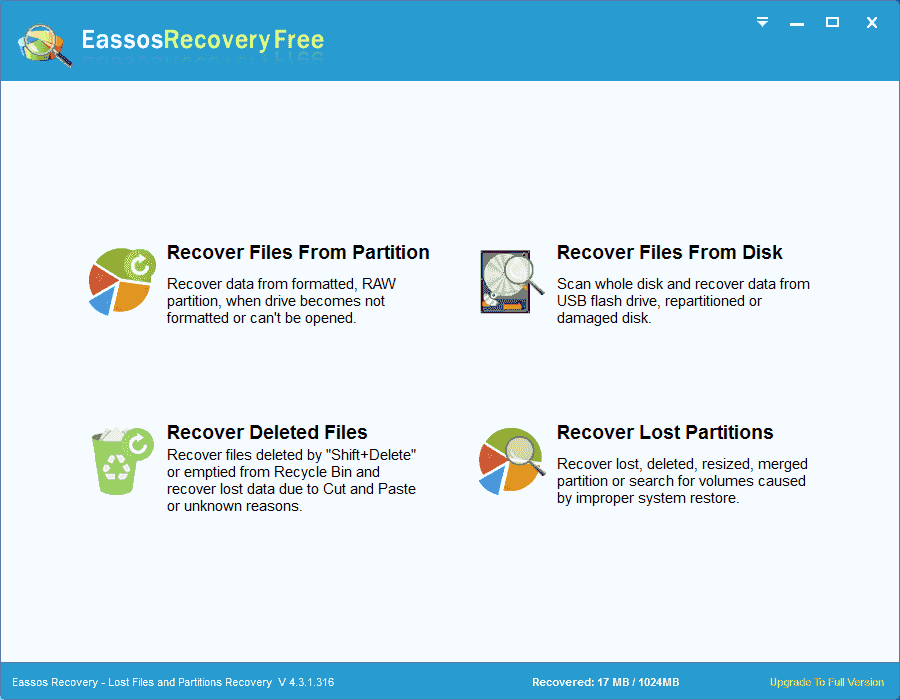 When recovering files from flash drives with Eassos Recovery Free, you must choose the proper data recovery modules, for example, the option "Recover Deleted Files" is designed for deleted file recovery, and the option "Recover Files From Partition" is used for formatted recovery, etc. Since different recovery options use different algorithm, selecting correct recovery module indicates higher success rate of flash drive recovery.