It frequently occurred that partition on hard drive or external hard drive can't be opened and reports the error like "D:\ is not accessible. The parameter is incorrect."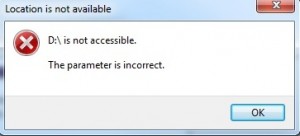 Various reasons can lead to this problem:  
Power failure for powered hard drive;
Plug out hard drive in an improper way;
Virus attack;
File system goes wrong;
Bad sectors.
How to deal with this problem without losing files in the partition? If you Google this problem, you'll find many answers that suggest performing chkdsk or formatting, however, after which files will get lost.
What's the best solution?
Step 1: Recover files from the partition with Eassos Recovery using the function "Recover Files From Partition". Recover files to a safe place.
Step 2: Try formatting the partition to make it normal to use. Also you can check bad sectors before copying back files.