Have you ever deleted photos accidentally from computer, camera, memory card, Android phone or other devices? Never fear, you may actually be able to get those photos back easily. This article will show you how easy it is to recover deleted or lost photos from Android phones as well as memory cards. Photo recovery on Android or memory card is easy and these methods here are worth a shot before hiring recovery services or totally giving up.
Overview
Before digital photo became popular, we had to take photos with film and developed them to paper photos which would be put in frames, albums, boxes, etc. Thanks to digital camera, the way of photo taking changed. The photography has never been so simple, as it no longer needs photo rolls and related stuff. Everybody can take as many photos as he wants with a digital camera or smartphone and all he needs to do is clicking the button placed on camera or phone. Then we can transfer photos to computer or upload to social networking sites such as Facebook, Instagram, Pinterest, etc.
We've been benefiting from photos which help us record important moment we want to keep. We are free to take as many photos we want without being bothered by the capacity or size of reel. The way of capturing and storing photos is really great and can be regarded as perfect except one thing. Since photos are digital data stored on data storage devices, it's equally easy to delete any photos we just take. This issue happens to anyone of us, and many have experienced the problem.
Operating system tries to prevent you from deleting files by mistake and it provides Recycle Bin from which you can restore files as long as they haven't been further deleted from Recycle Bin. However, this function doesn't work for USB drives such as USB flash drive, memory cards, digital camera, etc. Fortunately, there is another easy solution to get back deleted or lost photos and pictures.
What you should know about photo recovery?
Why deleted photos can be recovered?
You might be wondering how it is possible to retrieve photos which you have already deleted. We'd give you a quick explanation. Your digital camera or cell phone contains a memory card that provides space to store photos. When a photo is taken, it'll be stored on the memory card and managed by file system.
Recovering deleted or lost digital photos is possible and most of time easy to achieve. That's because storage devices do not immediately wipe photos after deletion. In fact, the deleted image is only removed from file system instead of the memory card. They will be tagged as deleted so that previously occupied space on the card now will be available to save new photos taken by users. Basically, deleted photos are still there on the memory card until they are replaced by newly stored data. During that time, recovering lost photos from memory card is possible. Other storage devices like USB flash drive, SD card, TF card, HDD employs same theory, and retrieve lost data from these devices are possible as well.
Photo loss scenarios
The most common photo loss issue appears when you delete files and then delete them from Recycle Bin. Many times, emptying Recycle Bin is done with the purpose of freeing up disk space, but many users lose files by accident this way. We often hear about complaint that people delete an important folder by mistake without realizing its importance. Besides, files can be deleted by malware or virus without known by photo owners. The actual data loss won't occur before deleted files are cleared from Recycle Bin, but USB drive doesn't have a Recycle Bin for user to restore data. Thus once photos got lost from memory card, the only thing you can do is starting recovery.
Another data loss cause is file system corruption. File system is responsible for data management and it won't be able to access photos if it is corrupted. Symptom of this problem is familiar to users, for instance, disk become inaccessible and reports error "The file or directory is corrupted and unreadable." What's worse, some users choose to format the inaccessible drive, making it difficult to recover data successfully.
Things you should note
The first thing you should do if you want to get back all deleted photos is stopping saving files to the storage devices, for example, do not take pictures after deletion. As mentioned, deleted photos are still there on the device before the free space gets reused. If you continue using it you may not be able to recover lost data as they might have been overwritten. File overwritten can be a matter of time, because memory cards are usually small in capacity compared with HDD and free space will soon be used up if you take new photos or storing new stuff. What's more, system writes data randomly to drive, which means any data writing in will overwrite lost data. If you are serious about lost photos you must act quickly and try to protect the device from being written by new data. Therefore, turn off digital camera and remove memory card from it, stop using cellphone if it is suffering from file loss and then attach it to computer to start photo recovery.
Next step is to locate efficient recovery software to do the recovery job. The software should be fast, reliable and effective. Actually, there is no need to considering expensive data recovery service, for recovery freeware can do the same thing even though you are not proficient in computer skills. You do not have to be a computer geek or specialist to restore lost images. You can fulfill the task without any difficulty as long as you use correct software. Recovery software shouldn't be installed to the drive that needs recovering data, as this can overwrite lost photos you are trying to rescue. If lost photos were stored on USB drive like SD card or thumb drive, you can install software to computer HDD and scan external disks which have been connected to your PC. When lost imaged are found out, you need to save photos to a different disk and complete recovery task.
Recover deleted photos from memory cards
How to choose best photo recovery software
When you search for data recovery software on Google you'll see many recovery programs available online, but that doesn't mean all of them are qualified to help you recover data. If you feel at sea with your search result, you can follow criterions below to choose the most appropriate recovery software.
Compatibility and performance
It is wrongly assumed that recovering photos is easier than recovering other types of data. But actually, the success rate largely depends on data loss causes and file overwrite condition. The best photo recovery software should be powerful enough to recover data from various data loss situations and storage devices.
Easy to use
Losing important photos is extremely stressful and frustrating, thus do not make the day more difficult by using photo recovery software which is complex to use. The software should guide you through every step of the recovery process, so that beginners can learn to use it within the shortest possible time.
The data recovery software should come with a concise recovery wizard including the installation and recovery steps. Scan and recover button should be clearly defined and placed. And the mouse clicks or other operations done by users should be as few as possible. It has no learning barriers even for a user who doesn't have many computer skills.
Fast scan speed
An excellent photo recovery program should balance performance and usability. Fast speed helps you recover data with shorter time. Although scan speed is not necessarily linked with recovery success rates, improved scan process means that you'll see your photos sooner.
Some recovery programs displays data after scanning completes and users can only see the progress bar during scanning; while some software is able to list lost files it just finds out when it is searching. In addition, you are allowed to preview photos during scanning.
Help & support
While choosing any product, you should always put customer support into consideration. Make sure you'll able to contact support team of the software developer and get satisfying help when you are in trouble. Besides, you should check its website whether user manual or educational resources are available.
Free photo recovery software
CuteRecovery Free is the right software you are looking for. It has the best recovery rates for deleted photo recovery. It is free of charge, easy-to use, fast and reliable and has a professional support team. Key features are listed below:
It support recovery of all common picture file types and vector images, for example, JPG, PNG, TIF, BMP, GIF, SVG, DWF, DWG, ICO, ANI and more.
It recognizes nearly all camera raw images such as Nikon, Canon, Fuji, Sony, Panasonic, etc. as well as production images including Adobe Photoshop, Illustrator, Corel Draw and Corel Paint.
It is compatible with a wide range of storage devices: HDD, SSD, USB flash drive, CF card, SD card, memory stick, etc.
Apart from recovering photos, it's able to recover other sophisticated data, for instance, document, video, music, emails and the like.
Step to recover deleted photos from memory card
First and foremost, you need to connect the memory card to computer via a card reader. If you do not have a card reader, you can insert the memory card to your digital camera or cellphone, and plug camera or cellphone to computer using USB cable. Once your card is recognized by computer, the photo recovery can begin. Please download CuteRecovery Free and you can follow the detailed guide to recover your lost photos from memory card.

Step 1
Install the software to your computer. Double click the installer and you'll see a wizard-based interface guiding you through the installation. Please make sure when you are installing it, DO NOT install it to the memory card where you want to recover data.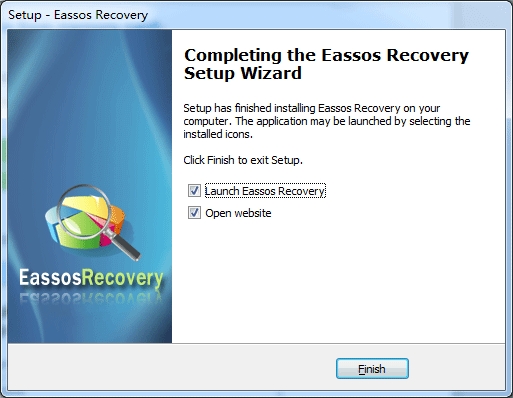 Step 2
Launch CuteRecovery Free after it is installed. There are 4 recovery modules on the wizard and choose "Recover Delete Files" which is the correct feature to get back deleted files.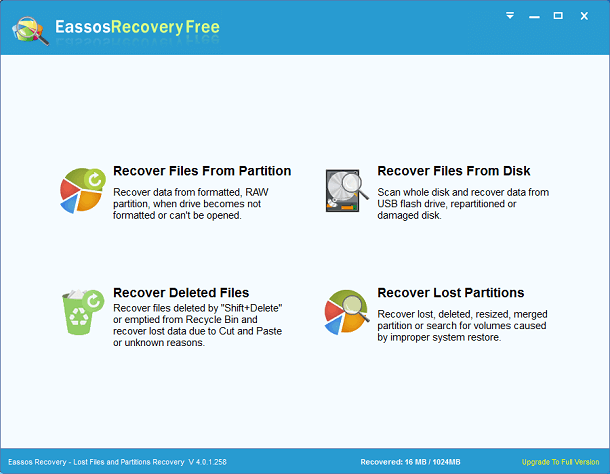 Step 3
Select the drive that represents the memory card and click "Next" to start scanning for deleted photos. If you want to do a deep scan, you can select the option "Extra Search for Known File Types". It's recommended to select it, as it helps to find more files that you may need.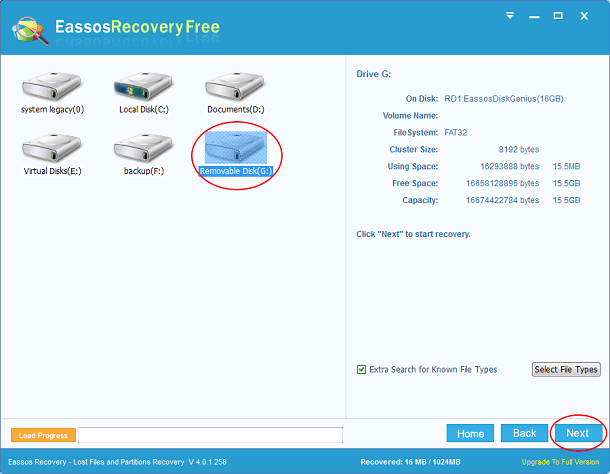 CuteRecovery is scanning the selected memory card and it has found out many photos. Now you can see photos are displayed in thumbnails and you can double-click anyone to view it in original size.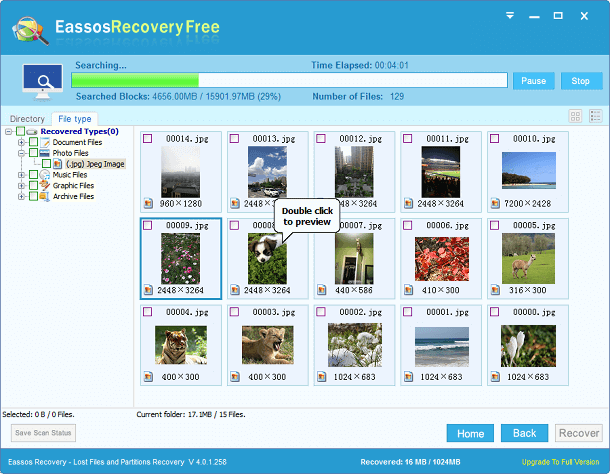 Step 4
Recover deleted photos. If all photos you want to recover have been found out by CuteRecovery, you can either pause or stop scanning files and copy files. Select photos and click "Recover" to save them elsewhere on your computer. Note: you can save the scanning progress before you close the software in case of need next time.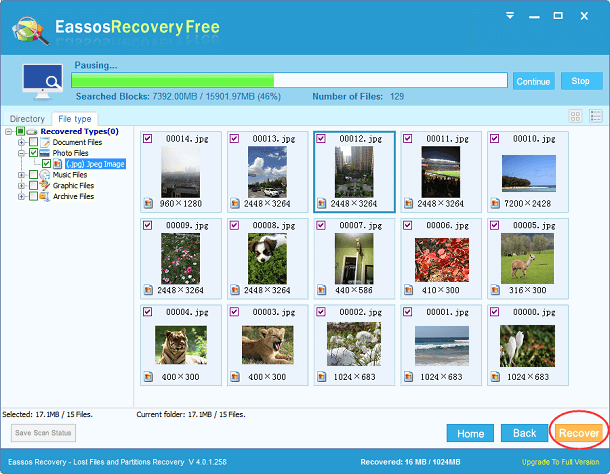 Tips to prevent data loss
There is never a guarantee that all lost files can be recovered at any time. We have some tips that can help you prevent data loss.
Use reliable memory cards instead of cheap card bought from unknown producers. Do some search first and buy any digital products from local or online shops which are officially authorized.
Backup data. If your photos are shot in an important event, you should back up files as soon as possible. Prepare a USB card reader which is able to attach your memory card to computer easily, then you can backup data to your hard drives or cloud drives. Remember to make a second copy for backed-up files and save each copy on separated drives.
Change new memory card. If your memory card is frequently used, it is more likely to get issues, such as it becomes inaccessible. You need to invest memory cards and change a new one in time if the old one is going to fail.
Install anti-virus software on your computer. Virus or malware deletes and damages files, thus you need to make a full scan for your memory card every time you attach it to computer.
How to recover deleted photos from Android?
Most Android phones provide powerful camera function which is favored greatly by their users. For many Android phone users, losing photos means too much especially when lost photos have not been backed up. However, it's known to all that there are many reasons causing data loss, such as deletion, incorrect operation, phone broken, flashing ROM, restore to factory settings and more. Luckily, we have chance to get lost photos back with the help of Android data recovery software.
Android data recovery software
Eassos Android Data Recovery can help you get out of the photo loss problem. This software can help you quickly find out deleted files and recover them from Android phones and tablets with easy steps. The built-in file preview feature allows you to view file contents before actual recovery. It is fully compatible with all kinds of Android devices from Samsung, HTC, LG, Sony, HUAWEI, OPPO and so one. Click the button below to download the program for Android data recovery

Steps to recover deleted photos from Android phone
Note:
1. This process requires root privileges on your phone.
2. Please do not add new data to your phone. Turn off Wi-Fi and data connection in order to keep lost data from being overwritten. If your data was overwritten, what you lost can't be recovered anymore.
Step 1
Connect your phone to computer via USB cable.
Step 2
Download Eassos Android Data Recovery to your computer. Install and launch it and you'll see the interface below. Click "Refresh Device" and the software will recognize storages on your phone.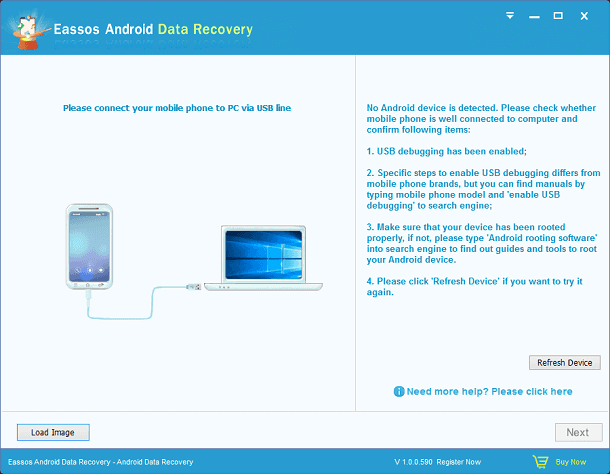 Step 3
Select the storage device where deleted photos were stored and click "Next" button to start scanning.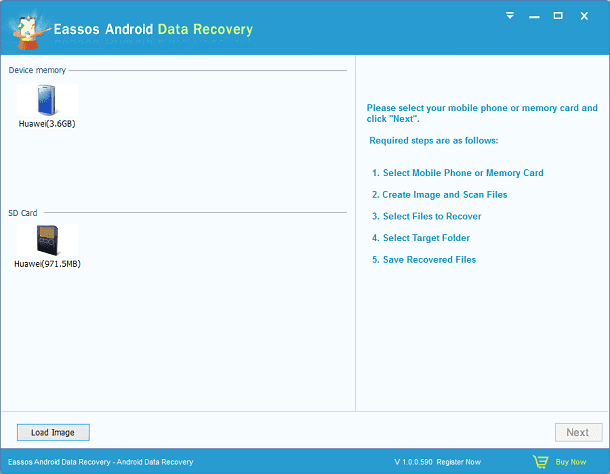 Step 4
Preview and recover deleted photos. Select photos you want to recover and click "Recover" button to save deleted photos on computer. It takes time to complete scanning based on the size of selected storage device, please wait patiently.