Resizing partition without data loss is a very important and practical function of disk partition management. You can resize partition without losing data quickly and conveniently by using PartitionGuru.
To resize a partition, select the partition that needs resizing, then right click the mouse button and choose the item "Resize Partition" on the pop-up menu, shown as below: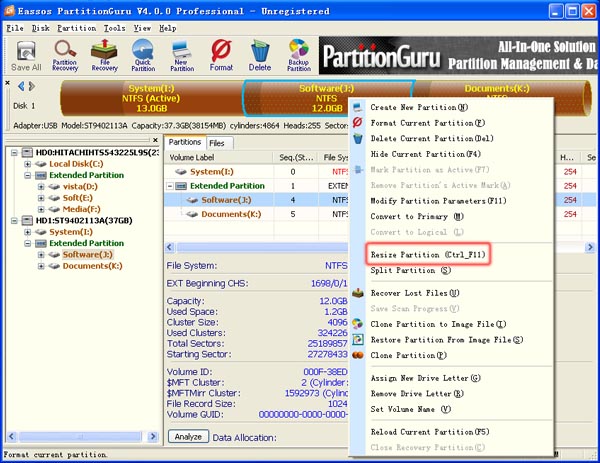 In general, resizing partition usually involves two or more partitions. For example, to enlarge a partition, you need to shrink another partition at the same time, and vice versa.
Whereas, when you use PartitionGuru resizing partition, which partition should be selected first among the two or more partitions?
The answer is the one that needs shrinking. In the following part, we'll take an example to explain how to resize partition by using PartitionGuru.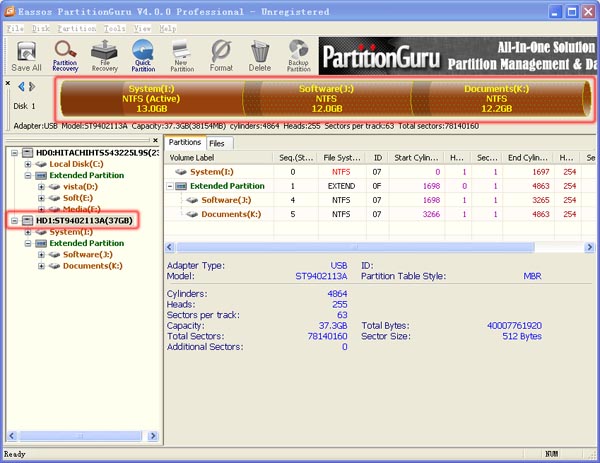 The above picture shows the partitions of a removable disk. Suppose we want to shrink partition I to 5G, and there will be 7G free space. We distribute 5G to partition J and 2G to partition K.
The following shows the detailed operating steps of resizing partition without data loss by using PartitionGuru.
1. Select partition I and right click mouse button, and then select the menu item "Resize Partition", as follows: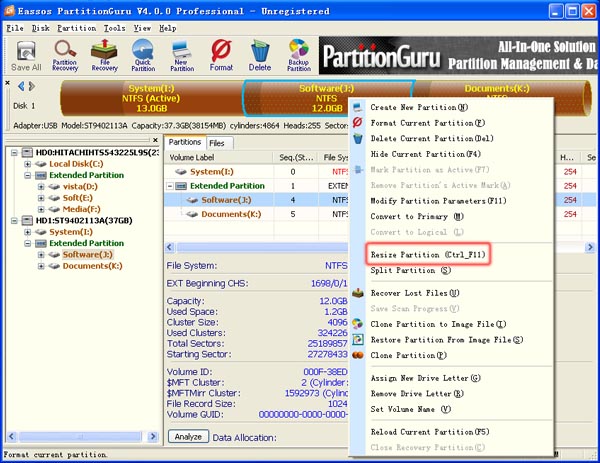 2. Set adjustment options on the pop-up dialog box "Resize Partition", as shown below: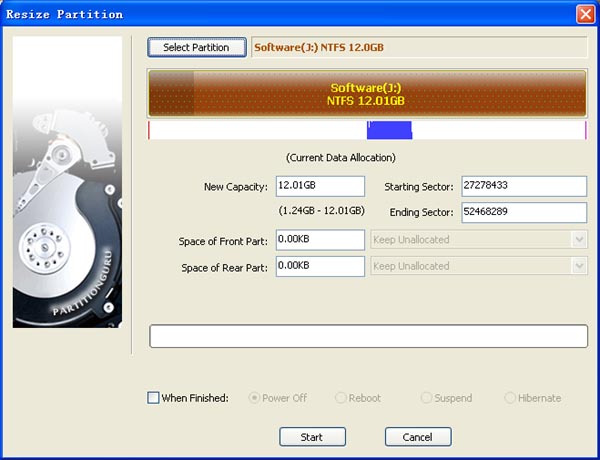 a. Input 5GB in the "Space of Front Part", and then press enter key or switch the cursor to other edit box, then the interface of "Resize Partition" dialog changes as follows: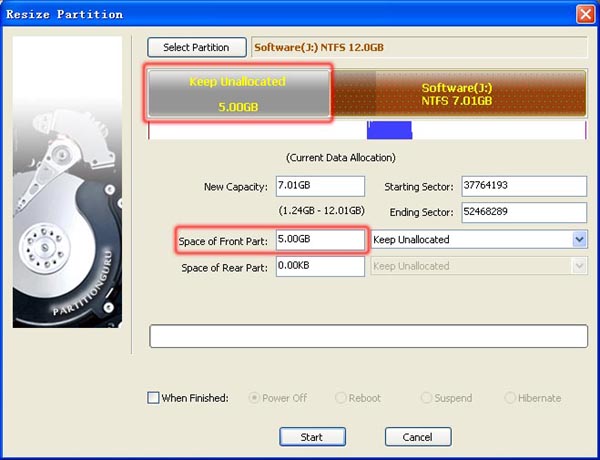 b. Apparently, we usually won't let disk space be free. Click the latter dropdown list and choose "Merge to System (I :)", as shown in the following: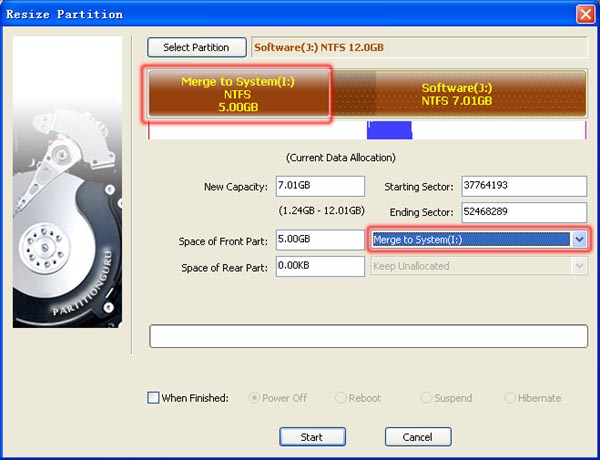 c. Resize the rear part of the partition in the same way. The size modified is 2GB and the modify option is "Merge to System (K :)", as in the following picture:
3. Click the "Start" button, and a prompt window will pop up, showing operating steps and matters that need noting, as following: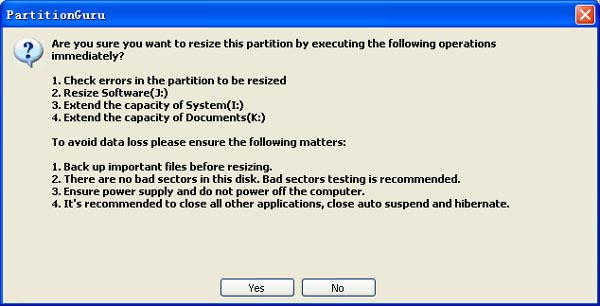 4. Click "Yes" button and PartitionGuru will start to resize partition without losing data. In the process of adjustment PartitionGuru will show the information about current operations in detail, as below: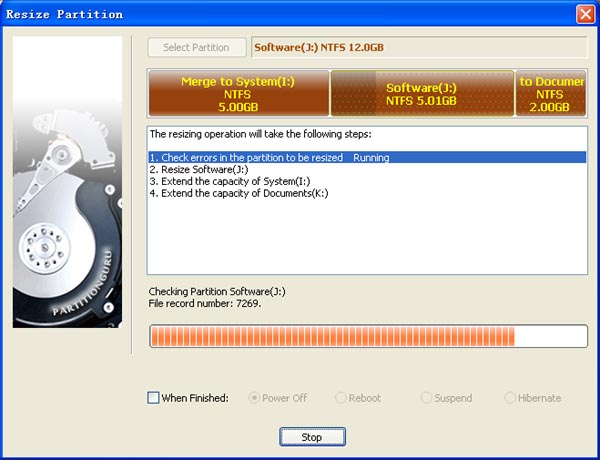 5. When PartitionGuru finishes resizing partition, click "Complete" button and close the "Resize Partition Volume" dialog box, as follows: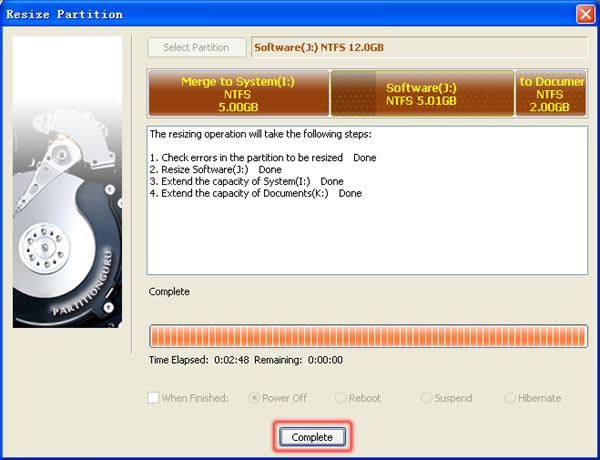 6. Now you can see partitions' capacity has been resized successfully! As below: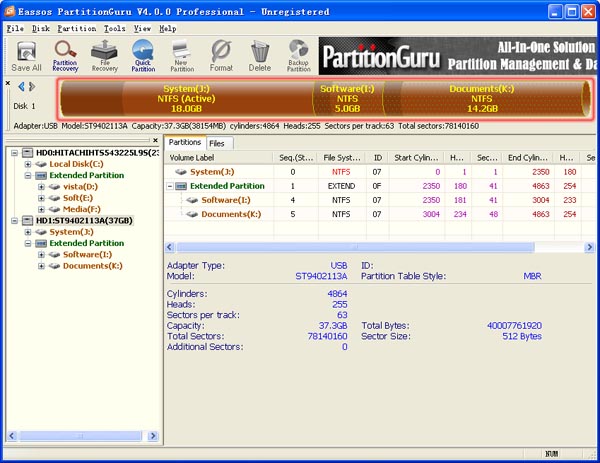 When you use PartitionGuru conducting lossless partition resizing, you should pay attention to the following matters:
1.If the operation involves system partition (usually C: ), PartitionGuru will restart the computer automatically and enter DOS mode; it'll run DOS version to finish resizing partition; computer will be restarted automatically after completing partition resizing and then go back to Windows system;
2.PartitionGuru supports mouse operations in the course of resizing partition, i.e. by using mouse, you can change partition size, move partition's position, and switch processing options after volume resizing; besides, you can directly assign partition size after adjustment, starting sectors, etc. as shown below: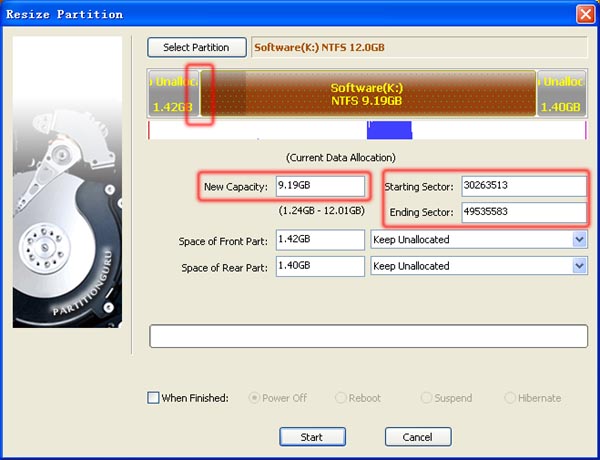 3.During the process of lossless partition resizing, please do not use other software to do any read or write operations. In fact, PartitionGuru will lock the partition being resized automatically.
4.If the partition is large and there is too much data in the partition, the lossless partition resizing will take a little bit long time, at this moment, you can assign the operations conducted after the adjustment and leave the computer to deal with other matters, as follows: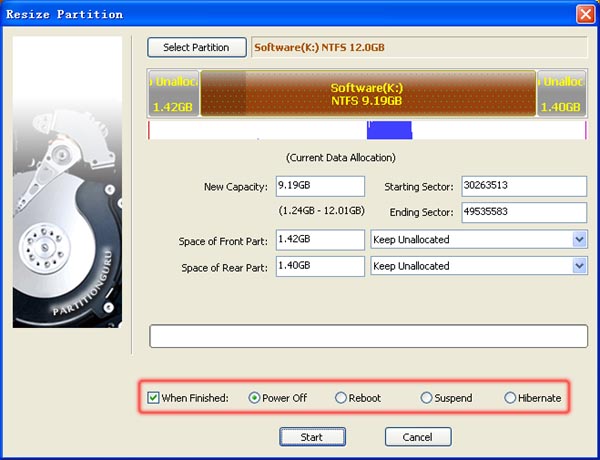 5.Since it's possible that our hard drive, partition table and file system have errors, thus, resizing partition without data loss is kind of a risky operation; if errors mentioned above do exist, the adjustment may fail, what's worse, they may cause data loss. Therefore, if you have important files, please back them up before the adjustment!
PartitionGuru will remind you this too when it resizes partition, shown as below: