This article introduces why error code 0x80004005 happens and tells how to fix it step by step in different cases. The error code 0x80004005 can happen to thousands of users every day, but not all users are able to fix the error. If you are troubled by the problem now, please keep reading and you can find an effective solution in this article and free your computer from the error code. It is an annoying error that tends to occur to many cases and bring trouble and difficulty. Here we'll help you to dig this issue deeper and talk about a couple of specific examples of the error and possible solutions.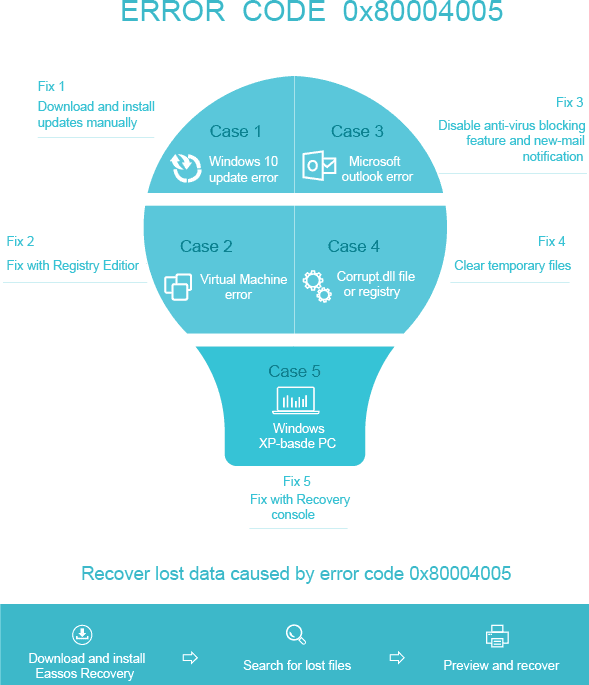 Case 1: Windows 10 update error
Many Windows 10 users complain that error 0x80004005 occurred while downloading KB3087040 update. Windows 10 was just officially released in the second half of 2015, and recently new update was released to make up flaws and fix bugs. Microsoft works hard push the update to users by mandatory update, while this time it ended up with an error for lots of users.
KB3087040 update was provided to rectify security issues presenting in the Internet Explorer Flash player. However, thousands of users reported on online forums or other social communities that the process of downloading the update failed, and here is the error message: "There were problems installing some updates, but we'll try again later. If you keep seeing this and want to search the web or contact support for information, this may help: Security Update for Internet Explorer Flash Player for Windows 10 for x64/x32 based Systems (KB3087040) – Error 0x80004005"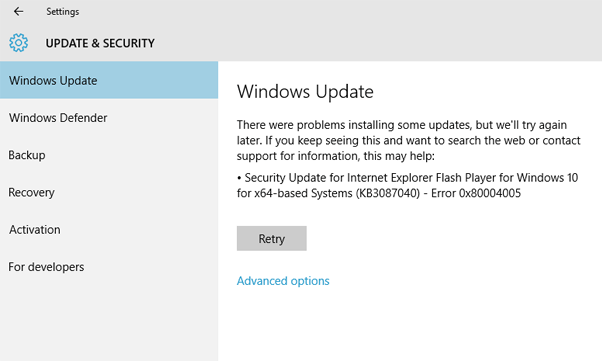 Though quite a number of users encounter the issue, there is an easy way to tackle it. Users can simply download and install the update manually without using Windows Update control panel. Update file can be downloaded from many sites online and you need to find it through searching with Google. Once the file is downloaded, you can run the setup file to install it. The setup process won't take long and you need to restart computer after setup finishes. Then Windows on your computer will be up-to-date and won't be threatened by system vulnerabilities.
Case 2: Virtual Machine and the error code
The error code we talk about here may involves many programs and it is not a specified error. Thus we can explain them one by one. A lot of times the error code is the result of virtual machine error or when you try to access the shared folders. If you are among those users who are bothered by the error 0x80004005, never mind, you can definitely handle it by yourself with the guide below. If the error appears on virtual machine, then there might be something wrong with registry key. And here are steps to deal with it.
Step 1 Open the Run dialog box. The easiest way to get it is pressing key combination of Windows key and R. Another way to find it is clicking Start button, All Programs and Accessories. Then you can see Run is listed that then click it to open the box.
Step 2 Typeregeditin the dialog box and click "OK", as follows: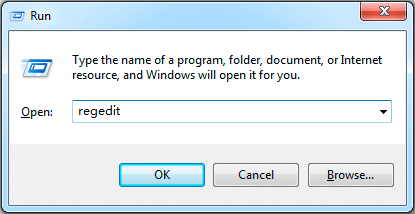 Step 3 Then you can open the Registry Editor. Check registry key following the path:
HKEY_LOCAL_MACHINE\ SOFTWARE\ Microsoft\ Windows NT\ CurrentVersion\ AppCompatFlags\ Layers
What you should do is checking whether the key is presented there, if yes, then delete it and start virtual machine. Deletion of the registry key should get the error fixed in most cases. If it doesn't, you need to try the next method.
If the error is caused by the Shared Folders, then please try steps below:
Step 1 Open Registry Editor again with method mentioned in previous part and navigate the path:
HKLM\SOFTWARE\Microsoft\ Windows\ CurrentVersion\ Policies\ System
Step 2 Create a new DWORD value called LocalAccountTokenFilterPolicy if your computer is running 32-bit Windows system; and you need to create a QWORD (64-bit) called LocalAccountTokenFilterPolicy if your computer uses 64-bit system. Do not forget to set value to numeric 1 and hit OK.
Step 3 Reboot computer and check if you are able to access the shared folders.
Case 3: Microsoft Outlook and 0x80004005
Many Microsoft Outlook users have experienced such issue: when new messages arrive and you get the error message: "Sending and receiving reported error "0x80004005": The operation failed." Besides, some users may receive error code "0x800ccc0d" while trying to send an e-mail. This problem can be caused by antivirus software such as Norton whose script blocking feature is enabled or registry problems, for instance missing or corrupted registry keys.
It's highly advised to get this error settled down, otherwise it may bring about inconvenience. For example, the error may prevent your Outlook from receiving or sending emails properly, which hampers you to communicate with your clients, friends and family. The good news is that repairing the error is an easy task.
Method 1: Disable anti-virus blocking feature
Usually it is a false positive report of anti-virus software installed on your computer. Then you can resolve the 0x80004005 error by disabling the script blocking feature. Also you can report this to anti-virus developer. The disadvantage of doing so is that computer may not be well protected.
Method 2: Disable anti-virus blocking feature
If your computer doesn't install antivirus like Norton, then try the second method. This method needs to disable the feature of reporting new email in Outlook, as the error code 0x80004005 often relates to switching off the feature. This solution may works on the issue of new email but it can't fix email sending issue.
To disable the feature, you need to find the Tools menu after opining your Outlook account, and then click Options and choose Preferences tab. Afterwards, select "Email Options" option and uncheck the item "Display a notification message when new mail arrives". Then click "OK" twice.
Case 4: Corrupt .dll file or Corrupt Registry
The error code may occur when certain operating system file is missing or damaged, which basically results in that system is not well maintained. Likewise, different users get this error due to various reasons; let's see how to get rid of it.
One of the most possible reasons for error 0x80004005 is missing or corruption of DLL files or registry. But there are lots of other reasons accounting for the error, as it is certainly a complicated issue. The most frequently used resolution is cleating temp folders and you can do so by following steps here:
Step 1 ClickStartmenu andAll Programsto find outSystem ToolsunderAccessories. Then clickDisk Cleanupand you'll get a wizard which identifies files you can delete and how much disk space can be freed.
Step 2 Select the item Temporary Internet Files and click "Clean up system files" button.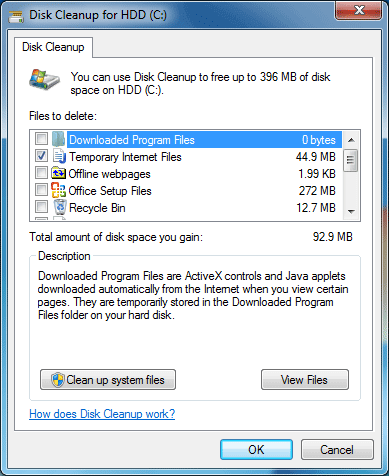 Alternative, you can clear temp files manually. Click Start button and type %temp% in the search box and hit Enter key. Then you'll see a list of files and folders which are placed in the temp folder. Select all these files by pressing Ctrl and A and hit Delete. After that, you can click the Recycle Bin icon on the desktop and right-click mouse button to empty it. Then these files will be permanently deleted from computer. Please make sure there are not important files in the Recycle Bin before emptying it.
Case 5: Windows XP-based computer with error 0x80004005
When you try to install XP system to your computer or start a XP-based computer, you may receive the error code 0x80004005. This error can be due to antivirus or third-party software which blocks the installation of Windows XP or the Windows Product Activation (WPA) file is missing or damaged. You can use Recovery Console to fix the problem and please follow instructions here:
Step 1 Set computer to boot from CD or DVD drive instead of XP system. For more information about how to configure this please read guides coming with your PC or contact manufacturer.
Step 2 Put Windows XP CD into computer and restart your PC. Then before computer boot to system you can see a prompt "Press any key to boot from CD" and press a key to make it boot to CD. Again you can see an instruction "To repair a Windows XP installation by using Recovery Console, press R.", then press R to enter Recovery Console.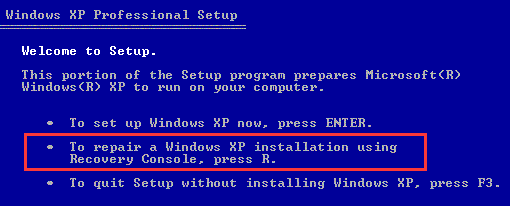 Step 3 When you see the option "1. C:\WINDOWS", please press 1 and you can access the primary drive installation. Meanwhile, if you are asked to enter administrator password, then type it in if you have set one otherwise press Enter to continue.
Step 4 Type cdC:\WINDOWS\System32and hit Enter. Use REN command to rename following files by typingREN File_Name.extensionFile_Name.old. Wpa.dbl Pidgen.dll Actshell.html Licdll.dll Regwizc.dll Licwmi.dll Wpabaln.exe
Step 5 Enter the drive letter of CD including a colon (e.g. G:) and hit Enter key. Go on tying cd i386 and press Enter. Type commands below and each command followed by pressing Enter.
expand licwmi.dl_ %systemroot%\system32
expand regwizc.dl_ %systemroot%\system32
expand licdll.dl_ %systemroot%\system32
expand wpabaln.ex_ %systemroot%\system32
expand wpa.db_ %systemroot%\system32
expand actshell.ht_ %systemroot%\system32
copy pidgen.dll %systemroot%\system32
When you finish previous steps, you can type Exit to close Recovery Console and press Enter key to restart computer.
Recover lost data caused by error code 0x80004005
Occasionally, the error code 0x80004005 may give rise to data loss, as the error happens when programs or operating system fails to behave normally. Data loss is annoying and sometimes disastrous and we should have an effective approach to solve it.
Eassos Recovery is professional third-partyhard drive recovery softwarewhich is designed to handle all kinds of data loss cases. Eassos data recovery software enables you to recover lost data or partitions with simple steps and there is the details guide:

Step 1 Install and launch Eassos Recovery to get its main interface divided into four parts with each presenting a recovery feature. Select one in association with data loss situation.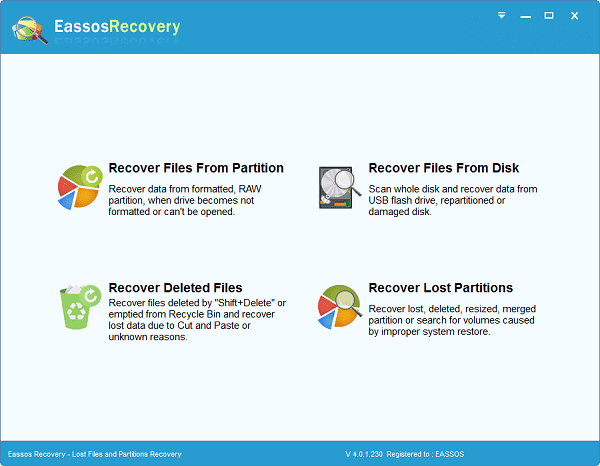 Step 2 Choose the drive that loses data and click "Next" button to start file scanning process.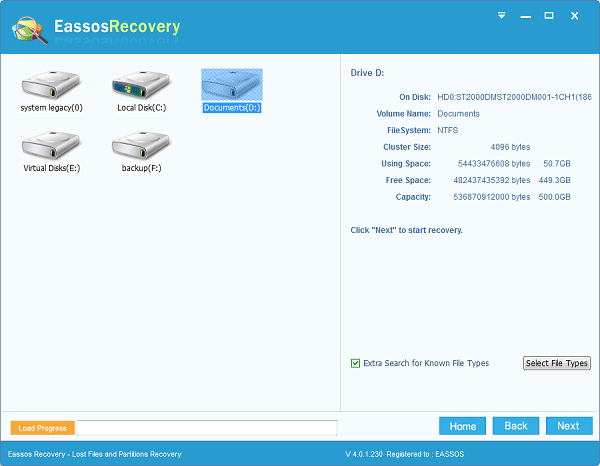 Step 3 While the scan is still underway, you are able to vie files and open files to check content. Moreover, the scan process can pause so that you'll be able to copy files to a specified location.